What is OPC™?
OPC™ is Observia's very own digital cloud platform. Most of our clients use it. Secure and scalable, OPC™ allows for customizing e-health solutions by integrating new or existing features.
It's our in-house e-health solution factory, so to speak! And we've worked hard to make our factory organized, modern, and agile.
How does OPC™ work?
Our platform's features cater to the needs of various patients, caregivers, and healthcare professionals: shared agendas, alerts, SMS/notifications, chatbot conversations, patient diaries, nurse call management, etc. We preconfigure these functions, and each client can customize how they look (design, colors) and how they work (adaptation of specific functionality aspects).
On top of this, it's possible to keep building in ad-hoc, tailored functions based on all our experience and existing setup. Your imagination is our limit!
So we think OPC™ is a must-have in developing sustainable e-health engagement and support solutions.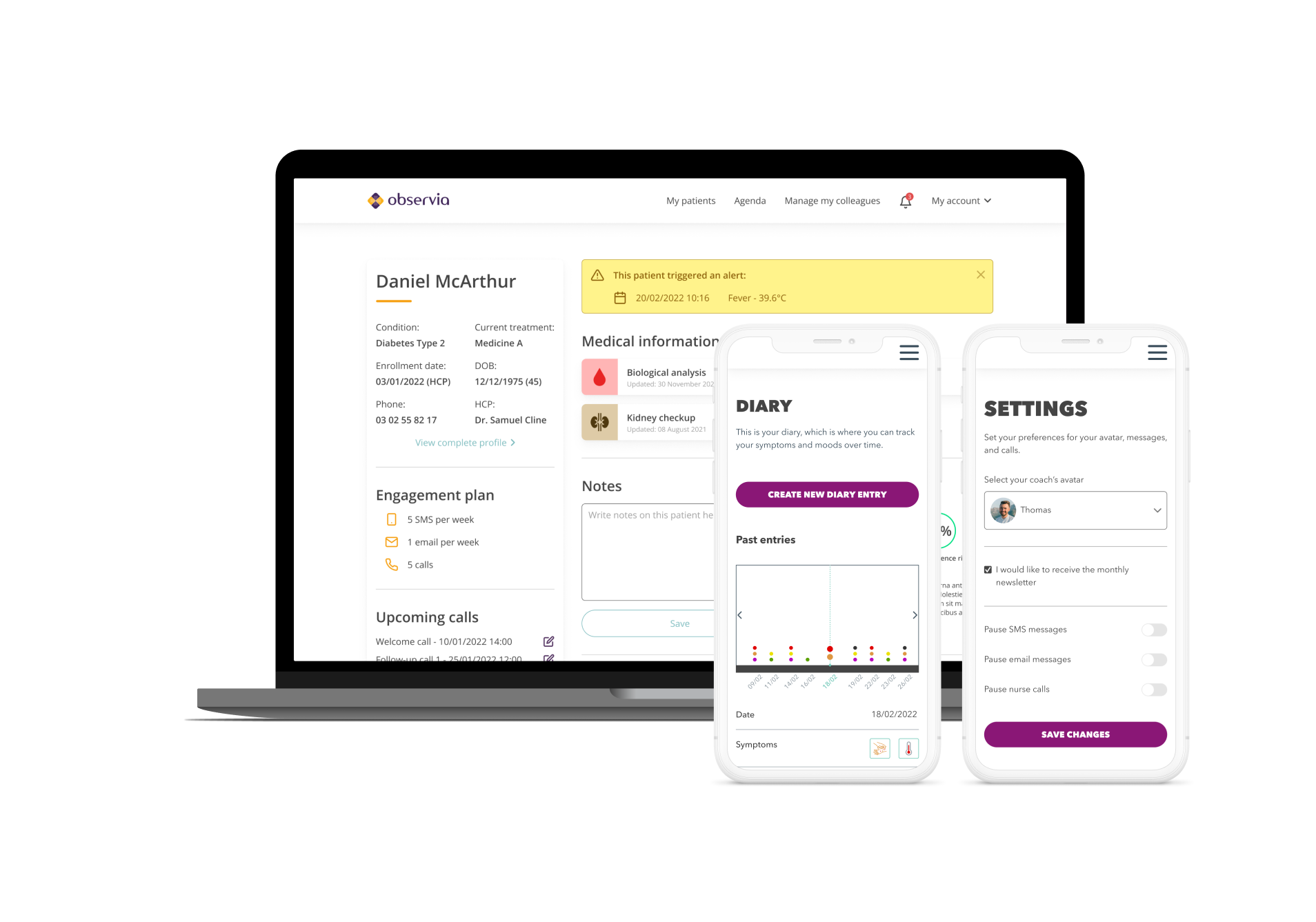 Why use OPC™?
It's highly secure. OPC™ manages patient healthcare data. Thus, from the start, compliance with the highest quality and security standards has been a prerequisite. We work with a data hosting service certified by the French authorities and fully comply with GDPR standards regarding data privacy, to ensure patient data is safely and appropriately hosted and used.
It's dedicated to healthcare. We created OPC™ to facilitate the development of e-health solutions, and only e-health solutions! It has been fully designed, built, and tested with and for our users in the healthcare ecosystem, allowing for perfect synchronicity among functions, needs, and preferences.
It's efficient. There is no need to rebuild everything from scratch. Our clients benefit from our 10-year experience and the numerous functionalities we have already developed. All you need to do is adapt these functions to your project's specificities.
It's scalable. Solutions based on OPC™ are easily transposable across geographical areas and web servers, a must-have when you are looking to deploy your projects in different parts of the globe. And once the first configuration is done, replication is quick and easy.
It's interoperable. We use the latest design frameworks and technical languages and have created our own APIs to ensure smooth integration between our platform's functions and your existing digital infrastructures.
It's agile. Our teams work in an agile fashion to ensure strong reactivity and efficiency. We're always interested in developing new functionalities for you, and above all, we're way quicker and more flexible than mammoth platform providers!
How is OPC™ applied?
There are infinite possible configurations within OPC™! But based on our experience, certain configurations tend to be matched with specific needs and interests, as follows:

Patient Reported Outcomes (PRO) platforms
Particularly in treatments requiring intensive follow-up support, PRO platforms are vital to ensuring medical care teams can regularly keep up with patients' medical and behavioral progress. Via digital interactive interfaces, patients can provide feedback daily on their health condition and mental state, and healthcare professionals can monitor them remotely, e.g., via alert systems and nurse calls.

Interactive patient education platforms
After a diagnosis or major hospitalization, patients must often learn to adapt their routines to new regimes.
Digitalized patient education programs are a valuable alternative to traditional methods. They personalize the patient experience and increase interaction, as key drivers of patient engagement and motivation to transform their behaviors. Such tools support transversal coordination and ensure that medical professionals can easily monitor patients' progress within the program.

Patient Relationship Management (PRM) platforms
Over the last decade, we've seen many developments in nurse call centers. To ensure quality patient support, it's very important that nurses properly follow up on their patients, with dedicated monitoring tools. PRM platforms support nurses daily in prioritizing and organizing patients' calls, monitoring alerts, interacting with healthcare professionals, and personalizing support for each patient. SPUR™ (our behavioral diagnostic tool) and d.tells™ (our smart personalization engine) can be added in to empower nurses even more in supporting patients!

Personalized multi-channel coaching platforms
As human beings, we're overwhelmed with information. So yes, we appreciate being coached on how to live our best lives, but only if the info is easy to access, with the right quality and quantity.
This is where building an Observia-powered coaching platform comes in. First, there are no limitations in terms of channels—coaching can be done via nurse calls, SMS, chatbots, voicemails, and more. We meet the patients where they are. Second, content is always co-built and validated with patients and healthcare professionals. Third, messages are tailored to the patient's medical and behavioral profile. We'll adapt the topics and how and when we communicate with them, all this to offer a positive and engaging experience towards improving patients' outcomes.

Dedicated pharmacist platforms
The role of pharmacists is evolving in many countries. Being close to patients' routines, pharmacists are crucial in managing patients with chronic diseases, and are sometimes incentivized to do so. They need tools to support their daily mission, to help them work efficiently and have more time to serve patients. Since 2013, Observia has been developing a professional platform just for them, with user-friendly tools and functionalities. Reach out to us to find out more about it.
More about our products
Discover our new generation of evidence-based tools to support efficient patient behavioral change and improve the user experience.
Insights
Patient and caregiver engagement Living with a chronic disease can be a lonely experience. Patients may feel isolated or misunderstood duri...
Discover

- solike facilitates mutual support and exchange between patients and caregivers- New platform fuels Bayer and Observia's commitment to prov...
Discover
Need more information?
Experience a live customized demo led by one of our experts and get answers to all your questions!