What's the most important thing when making a decision? It's simple. It's about making it in a well-informed way. Getting to know the "e-health solution market" is key. Getting to know your end customer, the patient, becomes vital to help you answer the question: "Why are you doing that?"
Over at Observia, we really focus insight generation on patients and digital topics. Also our motto: "Do it well or don't do it at all."
We aim to map patient journeys in a holistic and experiential-based way. We offer our clients an in-depth understanding of the patient's needs, attitudes, and expectations. We go beyond traditional market research agencies by leveraging our own methodologies. We even call ourselves "anthropologists!" We strive to ensure that your patient studies are built in a user-centric way and provide true value to the end user.
Patient studies
Problem: How can I put myself in my patients' shoes?
To truly understand patients' lives and unmet needs, there is no better way than to ask them directly about it, or even experience it first-hand. Today, several great tools are available to dig into the complex relationship between patient and disease. How does their condition impact their personal and professional life? Do they receive enough support? Observia assists you in conducting such research, thanks to its SPURTM tool and innovative patient interview and market research technique. It's inspired by empowering anthropological methods, such as photo-elicitation.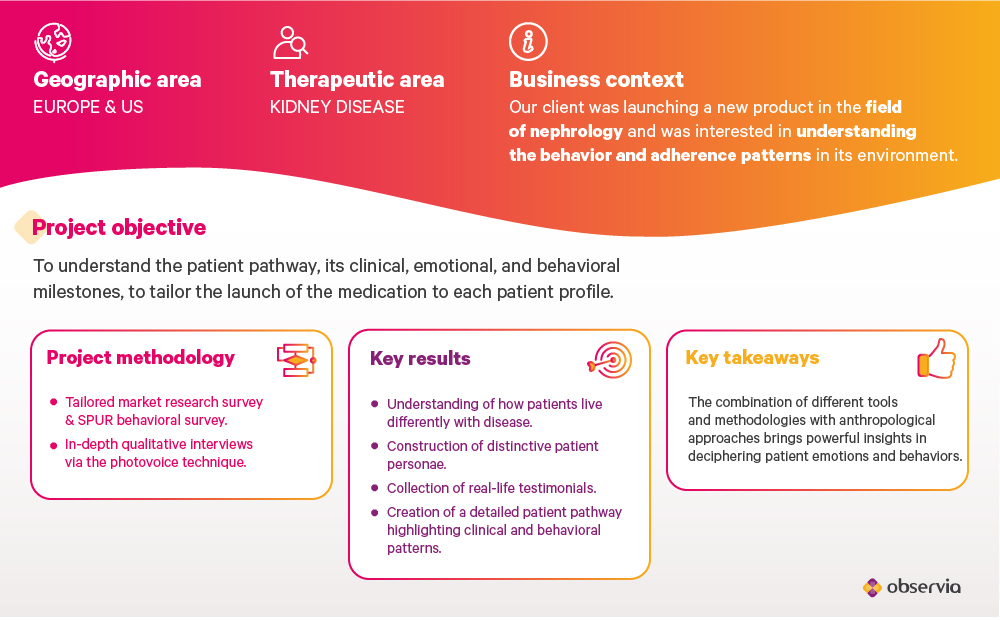 Competitive benchmarking
Problem: How do I ensure that my patient strategic vision and associated tactical tools are coherent with market trends and expectations?
Healthcare and its business model are changing and evolving at an incredible speed. Sometimes it can actually be very instructive to take a gander at what's happening outside the industry. Benchmarking the environment is a fascinating exercise to help us think outside the box, and maybe reposition our goals and tactics to ensure market differentiation and innovation. Observia's team of consultants helps you survey such a competitive and sectorial landscape, build readable syntheses, and leverage these exercises towards success.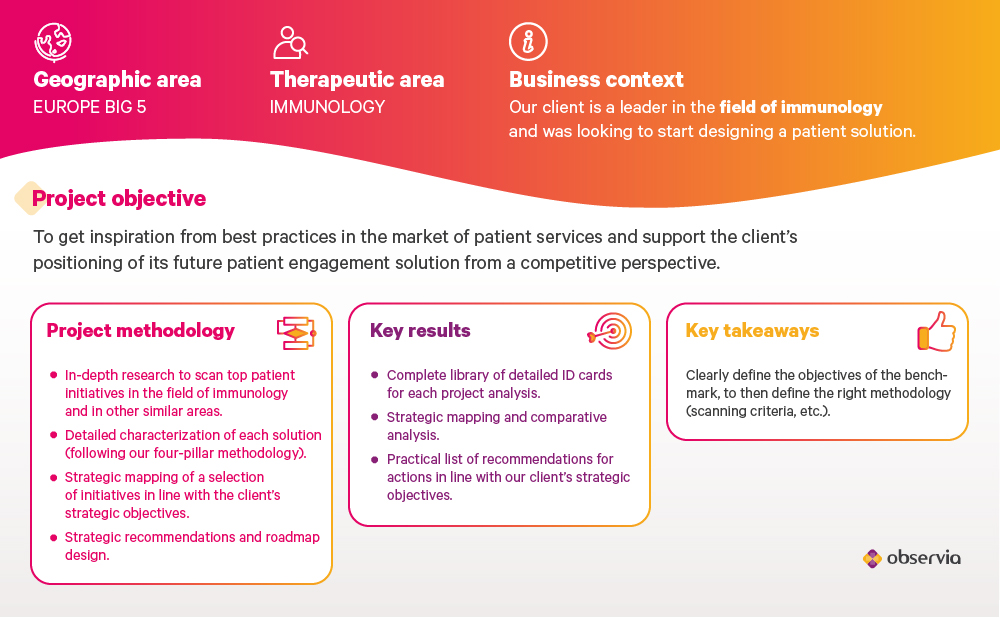 Solution assessment
Problem: I have already launched my patient solution. Can you help me better understand the barriers and obstacles to patient enrollment and engagement?
Building successful patient engagement and support solutions is not about using the latest trendy digital technologies. It's about offering solutions adapted to each user after being able to anticipate the user experience—whether patients, caregivers or healthcare professionals—from the minute they hear about the solution to their whole interaction process. Sometimes, this aspect is neglected during the design phase, leading to poor enrollment as the project goes live. Before making any definitive decision based on this, it's worth making an assessment. What's been done well? Where are the malfunctions? How do we optimize the solution's key characteristics to ensure stronger impact? Tell us about your project and we'll help you assess and revive it.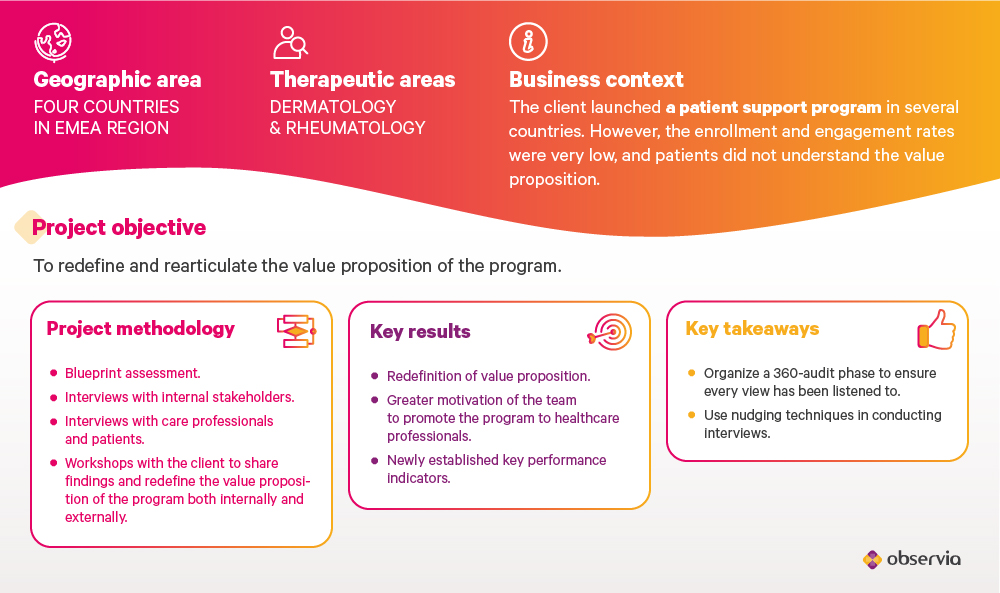 More about our offer
Discover our consulting offer and how we help companies transforming towards a more patient-centric future at both affiliate and global levels.
Insights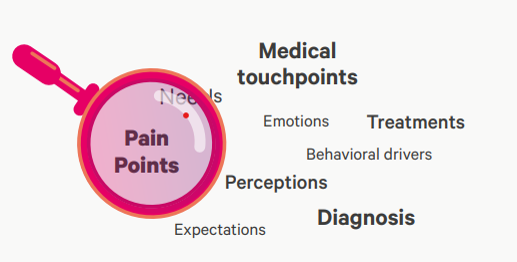 It's time for everyone in the healthcare industry to take a closer look at what drives patients' behavior and decision-making. Beyond the u...
Discover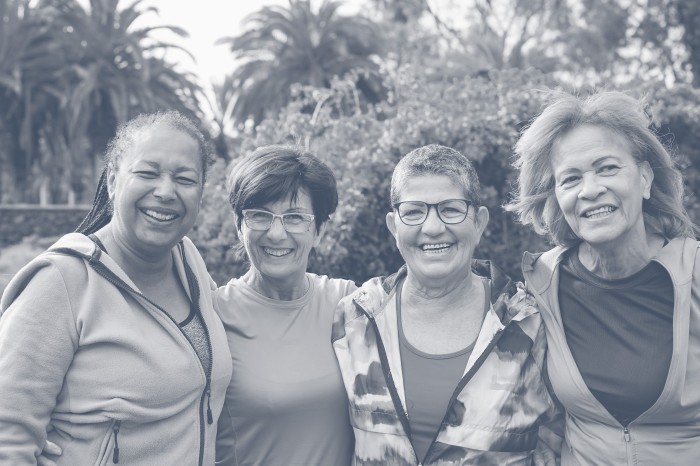 Listening to women's experience with vasomotor symptoms Menopause is a natural event which occurs to every woman, affecting the hormonal ba...
Discover
Need more information?
A burning question, a specific request, a great project to share with us?
Get in touch, our teams are here to help!